Went into the cinema with rather high expectations on the movie after watching 'Troy' earlier this year, which by the way was just superb, and came out cursing like a pirate for this has got to be the shittiest movie I've watched this year (if you don't count Japanese/Korean horror flicks)! The first words I uttered when the show ended was, "What the fuck?!"

I mean, there's nothing great about the whole show. None. Zilch. Na-da. In fact, the whole movie is one bloody gay fest! And I wasted 10 bucks on that? Man, I can never forgive myself. I think I need to fry my brains out after this to completely and utterly wipe out any memory of having watch the show.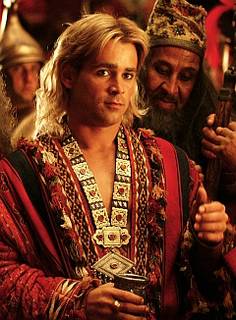 "I'm SO gay, gay IS me"

I have nothing against gays but I thought it was queer (pun intended) when I saw that Colin Farrell is taking the lead. I doubt he can pull it through and I was right. I bet he gets lots of fan mails from gays nowadays and lots more hate mails from the faggot-haters. And to think that he might be the next in line to play James Bond? Has the world gone blind?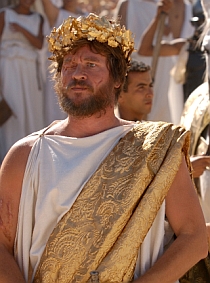 "Can someone take my other eye out?"

To all parents out there, never ever bring your young son to watch this movie. He might just grow up thinking that dressing like a woman, having male lovers, wearing mascara and tacky gold jewellery are just about the coolest things a guy could ever do. Don't say I didn't warn you.
Lastly, can someone please tell pervy Collie he looks ugly with blonde hair?