The Bad Ass Chick's Ugliest Automobile Award 2004 goes to ... *drum rolling* ... PROTON JUARA!!! (Juara means 'champion' in English. Yea, champion in the ugly department alright.)


The first time I saw the Juara on the road, I nearly keeled over from hysterical laughter at how good-taste-challenged the designers at Proton have come to be and how they can let a giant matchstick box out loose on the road like that?!! A million cigarettes and other flameable things are cowering in fear as I type.


Many things have been said about the Juara. Some says it looks like a modern funeral van while some says it looks like the WW2's German medical truck. It still looks like a giant matchstick box to me but one thing's for certain, everyone from the pimply, blonde-haired teenage VCD seller boy to the pot-bellied, peg-legged, speech-impaired, gap-toothed, one-eyed, misguided pirate wannabe agrees that it's the shittiest automobile they are unfortunate enough to ever lay eyes on.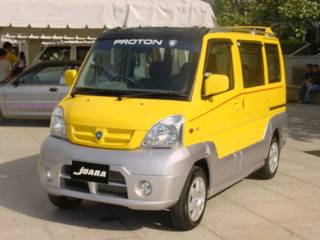 The Ugliest Automobile Ever
Just look at that piece of junk. Just look at it. Ok, stop. That's enough. This blogger WILL NOT BE HELD RESPONSIBLE if your eyeballs should decide to spontaneously combust while you are looking which makes me wonder whatever possessed the buyers to burn their money on that pile of scrap metal? It's not even cheap! I can think of many other less ugly but more satisfying ways to spend RM50K on such as hiring a few 'retrenched' VCD sellers to rearrange the faces of any dipshits who piss me off. Guess they must have had their heads so far up their asses that the Juara began to look like the Lamborghini and Sammy Vellu's hair piece began to look like real hair. Guess when it's dark and stinky, anything goes.
I wonder how many avoidable accidents the vehicle had caused from having other drivers gouging their eyes out each time this shit-mobile enters their view perimeters.